| | |
| --- | --- |
| Secure Credit App | Autoclick gives you your own link to a secure credit application form that can be emailed, linked from your web site, or opened with a shortcut on your desktop. |
Take Credit Applications From Your Website
Autoclick's Secure Credit Application tool allows you to take credit apps from your website, by email, or in your showroom. Secure Credit Apps automatically post into Autoclick where you can monitor and follow up on the approval process.
Secure Application Form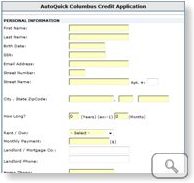 Our Secure Credit Application form is secured with 32bit SSL meaning that all information is encrypted between the visitor's browser and our servers. The form is easy to fill out and fully validated to make sure that all required fields are filled out.
Includes Co-Buyer and Co-Applicant Fields
32 Bit SSL Secured.
Form validated to ensure completeness.
Credit Applications Post Directly Into Autoclick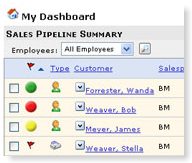 With Autoclick's Secure Credit App Tool all of your credit applications post directly into Autoclick. This saves time by avoiding duplicate data entry into separate programs. Automated data entry also reduces time for approval by improving accuracy and streamlining the submission process to lenders.
Saves time by avoiding duplicate data entry.
Reduces time for approval by streamlining process.
Take Credit Apps From Your Web Site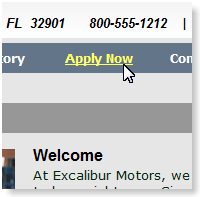 Autoclick's Dealer Website includes a link in your site menu bar to the Secure Credit Application form allowing your visitors to apply for credit from your web site.
"Apply Now" link in menu bar.
Take credit apps from your web site.
Email A Link To Your Customers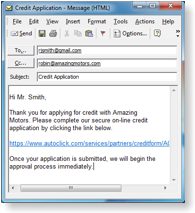 Emailing your client a link to the Secure Credit Application form is an efficient way to take a credit app from customers who have access to the Internet. Remember, all information is posted into Autoclick saving time for both your finance manager as and your customer.
As a Shortcut On Your Desktop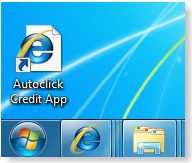 Many Autoclick dealers create a shortcut on the PC desktop to the Secure Credit App Tool for all of their sales team. This allows an associate to "pop-up" the app from any computer connected to the Internet and take a credit application. Again all information goes into both Autoclick saving time.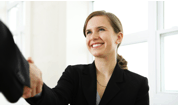 Subscription to Autoclick Includes
Secure Credit Application Tool

3 Log-ins to Autoclick

Website for Your Dealership

All for $99/mo plus one-time $99 setup fee.
Features
Take Credit Apps From Your Web Site

Application Posts into Autoclick

32 Bit SSL Secured

Avoids Duplicate Data Entry

Saves Time